Yanagita Distillery's focus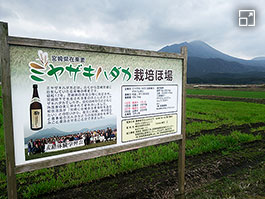 The place we arrive at is ingredients
Ingredients are everything. Specializing in barley shochu, Yanagita Distillery uses NISHINOHOSHI barley produced in Kyushu as the main ingredient for their KOMA brand shochu. Furthermore, in their search for "good barley", the barley variety they eventually arrived at was MIYAZAKI HADAKA, a barley variety indigenous to Miyazaki Prefecture. This is a pure native variety that has never been crossed with a non-native variety. Using some of the very few remaining seeds of this rare variety preserved at the Miyazaki Agricultural Experiment Station, an attempt at cultivation was made in 2007 and the variety was successfully resurrected. The following year, the Yanagita Distillery carried out trial distillation jointly with the Miyazaki Prefecture Food R&D Center, confirming that this variety is more suited to koji-making than the Japan-produced barley varieties that are conventionally used. This barley shochu is said to have a unique aroma that is different from any other barley shochu, and it reflects the Yanagita Distillery's strong devotion to barley shochu. MIYAZAKI HADAKA KOMA is sold exclusively in autumn, with the distillery producing approx. 3,000 bottles.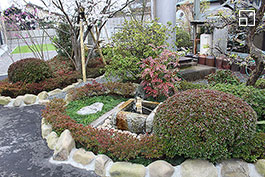 Underground water gushing from a wellspring on the distillery grounds
The Yanagita Distillery is located in the Miyakonojo Basin, which provides magnificent views of the Kirishima Mountains. Although there are no large mountains nearby, underneath the Miyakonojo Basin there is said to be a pool of underground water that has seeped out of rock even further below the bedrock beneath the basin and accumulated over many years. This water is said to be so plentiful that the supply is endless.
Underground water is continuously pumped up via a well in a corner of the distillery grounds and used for mashing and dilution, as well as for the Yanagita family's everyday living.
Yanagita Distillery's shochu
Refreshing, easy-to-drink barley shochu
"The point of our shochu-making is how to draw out barley's latent power." Yanagita Distillery is careful to propagate microorganisms slowly in a stable environment. The distillery underwent partial refurbishment in 2014. Various ingenious improvements were made, such as inserting three times the usual amount of insulation materials into the walls of the room used for koji cultivation (muro) to enable temperature and air management, as well as control propagation of koji and microorganisms; and also insulating the room for moromi (mash) fermentation. These improvements were made in part out of a desire to ensure that the distillery will continue making shochu and to make the shochu-making process even a little easier for the next master brewer. Contrasting sharply with the deep-blue enamel tanks, the pure-white moromi bubbled quietly as it fermented.
Yanagita Distillery's representative brand MUGISHOCHU KOMA is made using the decompression distillation method to produce a taste that remains refreshing to the last drop.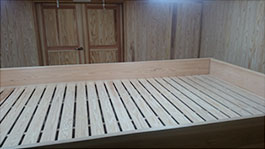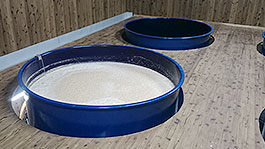 Company Profile
| | |
| --- | --- |
| Company Name | Yanagita Distillery Co., Ltd.(柳田酒造合名会社) |
| Address | 14-4 Hayasuzucho, Miyakonojo-shi, Miyazaki Prefecture, Japan |
| Phone | +81-986-25-3230 |
| FAX | +81-986-25-3231 |
| web | http://www.yanagita.co.jp/ |
Map
---