Focus on ingredients
Made with sweet, delicious Kushima sweet potatoes
 JUKAI SHUZO's flagship product HIMUKAKOTOBUKI AKAIMOSHIKOMI—an authentic sweet potato shochu—is made from local specialty Miyazaki Beni (a red sweet potato), which has a red skin and yellow flesh. This sweet, delicious variety is soft and crumbly when cooked, making it also good to eat. For the sweet potatoes used to make shochu, non-standard large potatoes are purchased from JA (Japan Agricultural Cooperatives), wholesalers, or contracted farmers. Generally speaking, shochu production is carried out from August/September when the sweet potatoes are harvested through to the end of the year. In this area, however, the freshness of the harvested sweet potatoes is preserved by storing them in rooms dug in deposits of volcanic ash and sand or air-conditioned storehouses, and so shochu-making is carried out year-round.
 The water used in shochu-making is spring water that bubbles up from a wellspring on the distillery grounds, which are surrounded by woods.
Environmental initiatives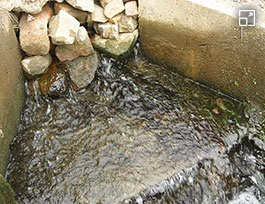 Shochu dregs are used as feed to nurture cattle
 As a means of disposing of shochu dregs, in 2006 the distillery established an agricultural production corporation, Cheerful Cows LLC, for fattening beef cattle (310 head of cattle as of March 2015).
JUKAI SHUZO and Cheerful Cows provide shochu dregs generated in the shochu-making process to breeding cattle, thereby reducing Cheerful Cows' feed costs as well as alleviating the stress of the cattle themselves and preventing accidents/injuries. It should also be noted that the amino acids and other substances contained in the shochu dregs improve the quality of the beef, so using the shochu dregs truly has the effect of "killing several birds with one stone".
Moreover, the cattle manure from the cow shed is processed into compost, which is then used to fertilize the fields, creating a recycling-oriented society cycle.
Company Profile
| | |
| --- | --- |
| Company Name | JUKAI SHUZO(寿海酒造株式会社) |
| Address | 1295, Oaza Kitakata, Kushima-shi, Miyazaki Prefecture, Japan |
| Phone | +81-987-72-5611 |
| FAX | +81-987-72-4355 |
| Tour of a Warehouse | Distillery tours are available (reservations must be made in advance; requests may be denied at extremely busy times) / Operating hours: 8:00 – 17:00 |
| web | http://www.jyukai-shuzou.jp |
Map
---