KAGURA SHUZO's focus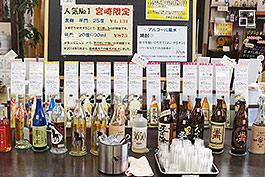 100% Japan-produced barley. Sweet potatoes are also produced in Southern Kyushu.
 Made from 100% Japan-produced barley, authentic barley shochu KUROUMA is KAGURA SHUZO's representative shochu brand. It is made using the perfect blend of atmospheric distillation and low temperature distillation to achieve easy drinkability.
 Barley shochu had been the norm at KAGURA SHUZO until 2001, when the authentic sweet potato shochu TENSONKOURIN made its debut. Using low temperature distillation highlights the sweet potato flavor, producing a sweet, gentle taste. This shochu won the honor prize in the authentic shochu division of the South Kyushu Sake and Shochu Awards in 2012, 2013, and 2014. In addition, with TENCHI SHINMEI, which is made from sweet potatoes using atmospheric distillation, you can enjoy the powerful flavor of sweet potato shochu. The sweet potatoes used are grown in southern Kyushu.
Master brewer's skills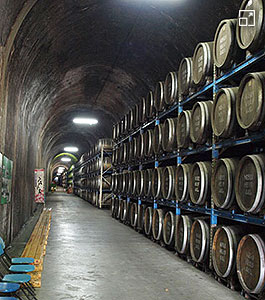 The brewer's instinct is needed even at mechanized factories
 Says company president Koichi Sato: "In the old days, there were master brewers who only came during the winter season when shochu was being produced. Our master brewer came from Kaseda in Kagoshima, and he worked as a fisherman during the rest of the year. You see, the starter koji used by the master brewer becomes the taste of the brewery." These techniques were truly the skills and instinct of the master brewer themselves; they were not taught, but rather learned by watching. The master brewer came every year until around 1977.
 Nowadays, Miyazaki Yeast is mainly used, and brewers are university-trained. However, even at modern factories that have installed large machinery, the skills and instincts of the master brewer are essential. At KAGURA SHUZO, both white and black koji molds are used in making the koji, an important process that determines the shochu's taste, and the quality of the koji is governed by the skill of the brewers. In the later processes of mashing and distillation, the important aspects require a brewer's hand. This is why it is possible to continuously produce shochu with stable quality under various conditions.
Together with the local community
Nishinomiyako Agurikan
11365-1 Kanoda, Saito-shi, Miyazaki Prefecture. TEL: +81-983-32-0880
Company Profile
| | |
| --- | --- |
| Company Name | KAGURASHUZO Co., Ltd.(神楽酒造株式会社) |
| Address | 144-1, Oaza Iwato, Takachihocho, Nishiusuki-gun, Miyazaki Prefecture, Japan |
| Phone | +81-982-76-1111 |
| FAX | +81-982-76-1118 |
| Tour of a Warehouse | Brewery/distillery tours are available (reservations are required if you require a staff guide) Operating hours: 9:00 – 17:00 (Closed on Wednesdays; when Wednesday is a public holiday, close the following business day) |
| web | http://www.kagurashuzo.co.jp/ |
Map
---