INOUE SHUZO's shochu
Distilled using the famous gushing waters
 On the grounds of INOUE SHUZO's distillery is the famous Yowara Spring, which was designated as one of Miyazaki Prefecture's Selected 21 Exquisite and Well-Conserved Waters in June 1993. When Meiji Period poet Santoka Taneda visited this area on October 8, 1930, he composed the poem Konna ni umai mizu ga afureteiru ("Such delicious water overflowing"), which remains on a monument written in the author's own hand.
 For mashing and dilution, INOUE SHUZO uses gushing spring water that maintains a stable temperature all year round, never becomes muddy even when it rains heavily, and never dries up.
Products with the added value of storage in oak barrels
  INOUE SHUZO's shochu also includes brands that are stored for a long time in oak barrels. The interaction of the substances in the shochu and the substances that dissolve out of the oak wood further enhance the shochu's quality. The balance of aroma and flavor are improved, creating a rich, mellow shochu.

Brewery worker introduction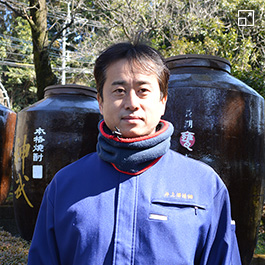 Masahiro Mera, Production Department Supervisor
 Says Mr. Mera, "Shochu-making involves microorganisms, so it's difficult because you must be careful all the time with temperature control and other aspects. Nevertheless, if you pour every effort into shochu-making, you are guaranteed to produce a delicious shochu, so it is rewarding."
 He continues, "Miyazaki's strength is that it is the only prefecture in Japan where a variety of shochu brands made from an array of different ingredients—sweet potatoes, barley, buckwheat, rice, etc.—are all produced. Many unique and unusual shochu brands are made here. I would be delighted if people firstly tried various shochu and found flavors that truly suit them."
 When asked for the recommended way of drinking OBISUGI, Mr. Mera explains that "It's easy to drink, so it's also good on the rocks. It has none of the pungent aroma particular to sweet potatoes, even when mixed with hot water, so it is also recommended for first timers. For women, it could also be drunk mixed with juice or Calpis. Distilled spirits such as shochu are additive-free liquors that cannot have sweeteners or flavorings added. Although excessive drinking is not good, shochu is gentle on the body when drunk in appropriate amounts."
INOUE SHUZO aims to continue making delicious shochu in the future so that reading the kanji characters "飫肥" as "obi" becomes recognized nationwide.
Company Profile
| | |
| --- | --- |
| Company Name | INOUE SHUZO Co.,Ltd.(井上酒造株式会社) |
| Address | 1326, Yowara-Ko, Nangocho, Nichinan City, Miyazaki Prefecture, Japan |
| Phone | +81-987-68-1055 |
| FAX | +81-987-68-1144 |
| Tour of a Warehouse | Brewery/distillery tours are not available. |
| web | http://www.obisugi.co.jp |
Map
---