AKATSUKI SHUZO's focus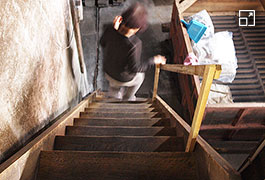 Tools as familiar to use as hands and feet
 To access the distillery, which is built on the side of a mountain, from the main building you climb down steep stairs, both internal and external. Here you find tools that continue to be used with care, lined up in order of the work process.
 At the entrance is the process for washing and steaming the rice. Currently a boiler is being used, but there is still a furnace and iron pot from the days when firewood was burned. Moving further into the building, there is the koji room that the third-generation distillery head made semi-automated, the first mashing tanks, and the atmospheric distillers lined up side-by-side, with the second mashing tanks located in the especially quiet space at the very back. These tanks are also used for resting the shochu after distillation.
Dedication to constantly producing the same taste without making any changes
 Old-fashioned authentic rice shochu AKATSUKI is made using ingredients purchased from the local JA (Japan Agricultural Cooperative) and Kagoshima Yeast. The distillery has changed the yeast in the past, but according to Kawachi-san, "Those yeasts were too 'demure'; they could not produce our taste." Ever since then, the distillery has only used yeasts they are used to using.
 Following distillation, AKATSUKI is rested for approx. one-and-a-half years in the distillery before being bottled and shipped. Says Kawachi-san, "There are alcoholic drinks that are said to taste better immediately after distillation, but we always rest our shochu. This settles the shochu, allowing the color to clear and enhancing the taste."
 This taste has a slightly different strength to recent shochu spirits, many of which are lightly flavored with the fragrance of rice.
Company Profile
| | |
| --- | --- |
| Company Name | AKATSUKI SHUZO(アカツキ酒造合資会社) |
| Address | 1835-5, Oaza Kawachi, Takachihocho, Nishiusuki-gun, Miyazaki Prefecture, Japan |
| Phone | +81-982-75-1612 |
| FAX | +81-982-75-1612 |
| Tour of a Warehouse | Brewery/distillery tours are not available. |
Map
---