HIMEIZUMI SHUZO's focus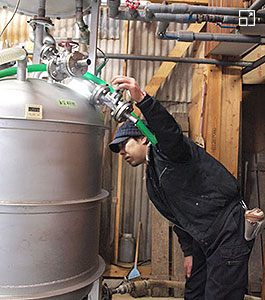 Unfiltered shochu retaining a natural umami flavor
 HIMEIZUMI SHUZO produces many varieties of shochu: authentic barley shochu, authentic sweet potato shochu, authentic buckwheat shochu, and authentic glutinous rice shochu.
 The brewery is very particular about its "unfiltered" distillation method for making their authentic sweet potato shochu. The brewery's shochu brand Unfiltered GOHEI is made from Kogane Sengan sweet potatoes using white koji mash and atmospheric distillation. Because "mechanical filtration removes even the natural umami flavor," the brewery uses a time-consuming filtering method whereby only impurities and excess oil are removed from the shochu by hand.
 For mashing water, the brewery uses natural spring water flowing from the opposite bank of the Gokase River from the brewery. "The brewery was apparently built on this spot because this water is essential for distillation." (Himeno-san)
Commitment and feelings of a 7th generation brewery head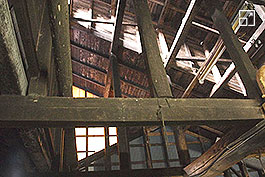 Continuous production of a unique taste
 "We basically use Kagoshima Yeast. After graduating from university, I went to the industrial research institute in Kagoshima to study about shochu, and I learned yeast-making here, too. We continue to use this yeast today. We have tried other yeasts but have decided to use Kagoshima Yeast because we don't mash large quantities and because it is better to for me to use a yeast that I'm familiar with in order to produce the taste that I'm aiming for.
 Made from 100% glutinous rice grown in Hinokage Town, our glutinous rice shochu YAMASATO has a unique richness and sweetness. Also, I think that our oak-barrel-stored TENPONINEN NO YAKUSOKU is a glutinous rice shochu with a slightly different taste that is unique to our brewery."
Company Profile
| | |
| --- | --- |
| Company Name | HIMEIZUMI SHUZO Ltd.(姫泉酒造合資会社) |
| Address | 3380-1, Oaza Iwaigawa, Hinokagecho, Nishiusuki-gun, Miyazaki Prefecture, Japan |
| Phone | +81-982-87-2016 |
| FAX | +81-982-87-2019 |
| web | https://www.himeizumi.co.jp/ |
Map
---