Emphasizing ingredients
Masaharu Syuzou's water: locally named "Kurusu"
Masaharu Syuzou's distillery is located at the very back of a settlement dotted with houses as if they have been stuck to the mountain foothills. Approximately five minutes' drive away is the water source, "Kiyomizugane". Locally it is referred to as "Kurusu" (literally "nine-flowing-waters") because there are said to be nine water veins flowing underground. This underground water has a hardness of 34 mg/=h, which apparently makes it exquisitely compatible with sweet potato shochu. This water is pumped up to the distillery and used for diluting and mashing.
Masaharu Syuzou also pumps and transports water for the surrounding homes. As water for domestic use, Kiyomizugane water also benefits local residents in their daily lives.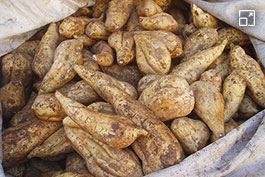 Going to the fields to check on the sweet potatoes
The sweet potato variety used as the main shochu ingredient is locally produced "Kogane Sengan", which is characterized first and foremost by its abundant starchiness. Although this sweet potato is also delicious eaten baked, when steamed it exudes a sweet fragrance, so using it to make shochu apparently produces a very mellow, gentle flavor.
In addition, visits to local production areas are integral to Masaharu Syuzou's shochu-making. Believing that "Shochu is 'local sake', something born from the agricultural products, water, and natural environment of this land," the brewers deeply value the ingredients themselves and go to meet all the producers.
Masaharu Syuzou's shochu-making
Shochu expresses the local environment and food culture
In addition to traditional shochu-making methods, Masaharu Syuzou uses shochu-making tools—such as containers for maturing yeast—that have been in continuous use since long ago. Their thinking is that there is a certain shochu flavor base that can be created precisely because the shochu is made in a certain locality using ingredients from that locality, and the shochu (=local sake) is created when the master brewer's individuality is added to this flavor base.
In shochu-making there is no 100% correct production method—each distillery has its own production process, completely different from other distilleries. "It's the same as how miso soup differs from family to family. There is also the question of whether the soup will be to guests' tastes." As a representative brewery of its local area, Saito, Masaharu Syuzou will continue to watch over and protect the local climate and cuisine. Located at the foot of the Saitobaru Burial Mounds, Masaharu Syuzou enjoys a magnificent joint performance by rape blossoms and cherry blossoms in springtime.
---