Distillery's focus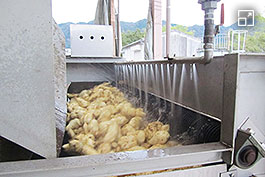 Nurture ingredients, bringing out their taste
 Shochu ingredients are mainly produced within Miyazaki Prefecture. HYUGA AKUGARE is made using contract-farmed Kogane Sengan sweet potatoes, while HYUGA AKUGARE TOGO DAICHI NO YUME is made using Daichinoyume sweet potatoes cultivated exclusively for the distillery by an agricultural corporation in Togo-cho, Hyuga City. In addition to sweet potatoes, the distillery also makes shochu from grains such as Japanese barnyard millet, millet, and barley.
 "Shochu is not made but rather nurtured," says master brewer Toyofumi Yamamoto. His aim is to achieve shochu-making that brings out the wonderful flavors created by the ingredients entrusted to him by their producers, nurturing the ingredients so that they are comfortable.
 For mashing, traditional pots are used, with two pots used in each mashing. Although the distillery cannot produce large quantities of shochu, their motto is to carefully craft shochu in small batches, making the most of local ingredients, to create products that bring joy to those who drink them.
Distillery tours
See the mashing process
 It is possible to tour inside the distillery. The mashing period is from August until December.
  Up to 500 kg of koji rice is placed in the koji-making drum and washed, steamed, and seeded. The koji rice is then moved to triangular shelves for cultivation.
The cultivated koji is placed in pots with water and yeast to make the moromi (main fermenting mash) (first mashing). After approx. five days, the moromi mash is mixed with steamed sweet potatoes (second mashing).
After distillation, the shochu is usually passed through a filter, but there are also shochu spirits—such as HYUGA AKUGARE MUROKA—that can be enjoyed for their deep, rich, unfiltered taste.
■Make reservation by telephone a minimum of one week before the date you wish to tour the distillery. There are no restrictions on the number of tour participants.
With its mellow taste, HYUGA AKUGARE is a recommended shochu for women and young adults. Compare the taste with the light taste of HYUGA AKUGARE 14°.
Company Profile
| | |
| --- | --- |
| Company Name | AKUGARE DISTILLARY(株式会社あくがれ蒸留所) |
| Address | 212-1, Oaza Yamage, Togocho, Hyuga-shi, Miyazaki Prefecture, Japan |
| Phone | +81-982-68-3550 |
| FAX | +81-982-68-3551 |
| Tour of a Warehouse | Distillery tours are available (Reservations must be made a minimum of one week in advance. There are no restrictions on the number of tour participants. The mashing period is from August until December.) |
| web | http://www.akugare.jp/ |
Map
---