KIRISHIMA SHUZOs' focus
Emphasis on 100%
One of KIRISHIMA SHUZO's management policies is "Rooted in the region and developed together with the region". Accordingly, the distillery is insistent on using locally produced ingredients as much as possible. The main ingredients for shochu, sweet potatoes, are 100% Kyushu-produced, while the rice used to make the koji rice malt is 100% made-in-Japan. All KIRISHIMA SHUZO products are made using clear subterranean water (Kirishima Rekka-sui) that has accumulated in fissures in underground bedrock beneath the Miyakonojo Basin. Furthermore, KIRISHIMA SHUZO is adamant about making shochu in Miyakonojo City, where the company's headquarters are located. Altogether, the five distilleries within the company's two production facilities in Miyakonojo City have the capacity to produce approx. 200,000 1.8-liter bottles (25% alcohol) (2,000 koku) per day. As for ingredients, 80 tons of sweet potatoes and 16 tons of rice are used per day. Technology for freezing the sweet potatoes is established, but generally freshly harvested sweet potatoes within three das after harvesting are used. In 2014, KIRISHIMA SHUZO concluded an agreement related to the production and use of rice for shochu-making with the Miyazaki Prefecture Federation of Economic Agricultural Cooperative Associations (JA MIYAZAKI), contributing to the sixth industrialization of agricultural products grown in Miyazaki Prefecture.
The distillery operates under "KIRISHIMA Product Quality Management YUI", an ISO9001-compliant quality management system, carrying out quality management under an excellent management system as a food factory.
KIRISHIMA SHUZO's shochu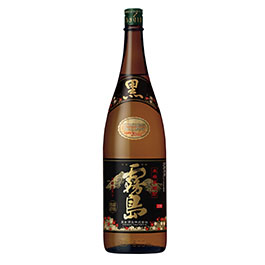 KURO KIRISHIMA
This brand was launched in 1998. The first shochu produced by KIRISHIMA SHUZO founder Kichisuke Enatsu was a black koji shochu. KURO KIRISHIMA is an authentic sweet potato shochu that inherits the roots of that first black koji shochu produced in the distillery's early days. This shochu is characterized by its rich sweetness and crisp aftertaste.
In 2002, KURO KIRISHIMA won the Excellence Hit Award in the Liquor Division of the Food Hit Grand Prize, presented by The Japan Food Journal, and in 2020 won the Food Hit Grand Prize Long-seller Award. Also, the Japan Anniversary Association has designated and registered September 6 as "KURO KIRISHIMA Day".
Company Profile
| | |
| --- | --- |
| Company Name | KIRISHIMA SHUZO Co., Ltd.(霧島酒造株式会社) |
| Address | 4-28-1, Shimokawahigashi, Miyakonojo-shi, Miyazaki Prefecture, Japan |
| Phone | +81-986-22-2323 |
| FAX | +81-986-25-8474 |
| Tour of a Warehouse | Distillery tours [Factory tours] Reservations must be made by telephone in advance (+81-986-21-811) |
| web | https://www.kirishima-global.com/co/en |
Map
---