Focus on production
Unique mashing and blending
 One of the characteristics of SAKAGURA OHTEMON's shochu-making is their "high-temperature fermentation process", which the distillery developed themselves through independent research. Temperatures for the first and second mashings are set high and carefully controlled. By doing this, the distillery succeeded in firmly drawing out the sweetness and flavor of the ingredient sweet potatoes, barley, and rice.
 SAKAGURA OHTEMON also has a unique attitude towards blending. Whereas distilleries usually blend shochu to adjust the taste, SAKAGURA OHTEMON does so in order to "highlight the goodness of each ingredient."
 For example, CHOETSU is a blend of one shochu made from highly acidic Thai rice and another made from Miyagi-produced rice, both of which use white koji rice malt for mashing; and RO is made from two sweet potato varieties—sweet red Beniimo and purple Aya Murasaki, which is characterized by its acidity and aroma—with the moromi aged at low temperatures for a long period of time. Shochu with unprecedented unique flavors have been born.
 Sparing no effort with mashing and mixing rather than leaving these processes to machines or computers, the distillery workers are pursuing even more new flavors.
Creating unique flavors through distillation and filtration
 Not only does the distillery mix together various different ingredients, they also take a unique stance regarding distillation and fermentation. Their major brand FARAO is a blend of two shochu using different distillation methods—atmospheric and decompression—while with CHOETSU, the tarekuchi unprocessed shochu temperature is set very low for distillation.
 Moreover, some brands are blends of filtered and unfiltered shochu, providing richly individualistic flavors for you to enjoy.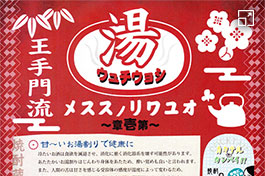 Recommended mixed with warm water
 SAKAGURA OHTEMON actively recommends drinking their shochu "mixed with hot water". This not only draws out the flavor of the shochu even more strongly, but also has the benefit of warming the body, making it easier to sober-up. This style of drinking is also recommended for first-time drinkers and women. The distillery has created a signboard summarizing their brands and drinking styles and distributes these to stores and restaurants/bars. Looking at this signboard, you can see that drinking their shochu brands mixed with hot water is undoubtedly the best way to enjoy them!
Company Profile
| | |
| --- | --- |
| Company Name | SAKAGURA OHTEMON(株式会社酒蔵王手門) |
| Address | 898-8, Ofuji-Ko, Kitagocho, Nichinan City, Miyazaki Prefecture, Japan |
| Phone | +81-987-21-7717 |
| FAX | +81-987-21-7727 |
| Tour of a Warehouse | Distillery tours available for small groups (Please make inquiries by telephone in advance.) |
| web | http://www.ohtemon.jp/ |
Map
---