Emphasis on "authenticity"
Water, pots, koji—emphasis on authenticity
SUKI SHUZO is located in a district on the border between Miyazaki and Kumamoto Prefectures that was formerly known as Suki Village. Situated in the Kyushu Mountain Range, the distillery uses groundwater pumped up from 120 m underground. The Suki district comprises mountains sitting atop bedrock, and it took seven months to dig down to the underground water vein. As it passes through the thick bedrock, this natural water is filtrated by nature's filter. The water is said to be more than 100 years old. Nothing needs to be said about the air.
At SUKI SHUZO, shochu-making is carried out by hand. Several years ago, to mark the 100th anniversary of the distillery's foundation and aim for an even better 100 years to come, the all-wood distillery building was relocated and newly rebuilt in its current location. One of the purposes of the wooden structure is to nurture good house yeast. Also, the pots used for making and aging the shochu are traditional pots made domestically. The distillery continues to use these well-used pots, which are very old—some as old as 160 years, and the "newest" aged 130 years.
SUKI SHUZO's shochu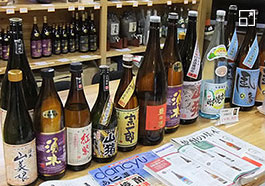 Distillery tours, shop, tasting counter
Tours enable visitors to observe the production and storage areas through glass windows while listening to an explanation of the shochu-making process. Reservations much be made in advance. Outside the busy shochu-making season (late September through November), master brewer Mitsuo Uchijima acts as tour guide some days. Listening to the master brewer taking passionately about each shochu's individuality makes you want to try this one, then that one…. There are bottles of shochu lined up on the shop's counter, and it also possible to do a taste comparison between 2013 and 2014 vintages, depending on the brand. You can discover how distinctive the flavors become after the shochu has rested. Each brand has its own strong personality, and you can even enjoy "tasting" the aromas without actually drinking the shochu.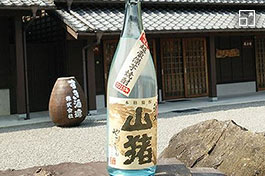 Shochu ranging in taste from rich to refreshing
There are also many shochu brands that receive strong inquiries from the Tokyo Metropolitan Area, such as the limited shochu brands YAMAJISHI and YAMABIKO. An unprocessed barley shochu, YAMAJISHI is the perfect matching of barley's refreshing flavor and an aromatic chocolatey richness. The local shochu SUKI SHOCHU is also recommended as an accompaniment for meals. This easy-to-drink shochu can be enjoyed mixed with either hot or cold water.
Company Profile
| | |
| --- | --- |
| Company Name | SUKI SHUZO(すき酒造株式会社) |
| Address | 393-3, Sukishimoda, Kobayashi City, Miyazaki Prefecture, Japan |
| Phone | +81-984-48-2016 |
| FAX | +81-984-48-2555 |
| Tour of a Warehouse | Distillery tours are available (around 1 – 20 visitors per tour). How to make a reservation: by telephone or e-mail |
| web | http://suki-syuzo.jp/ |
Map
---